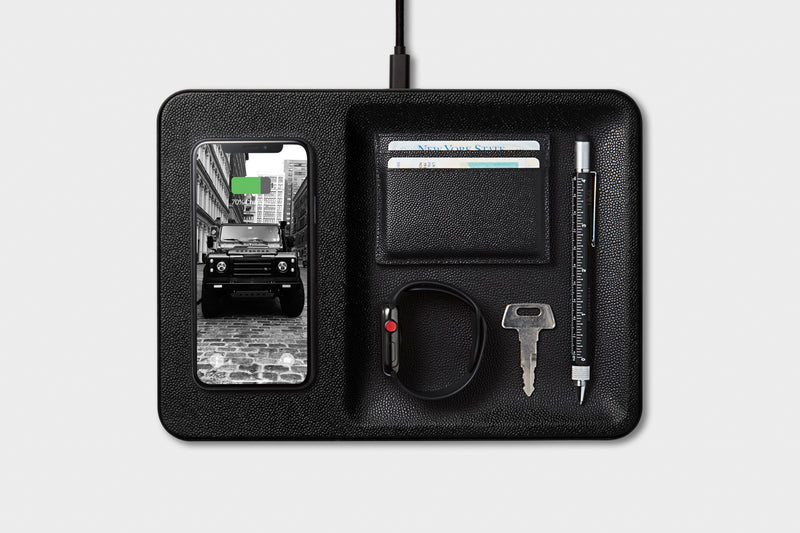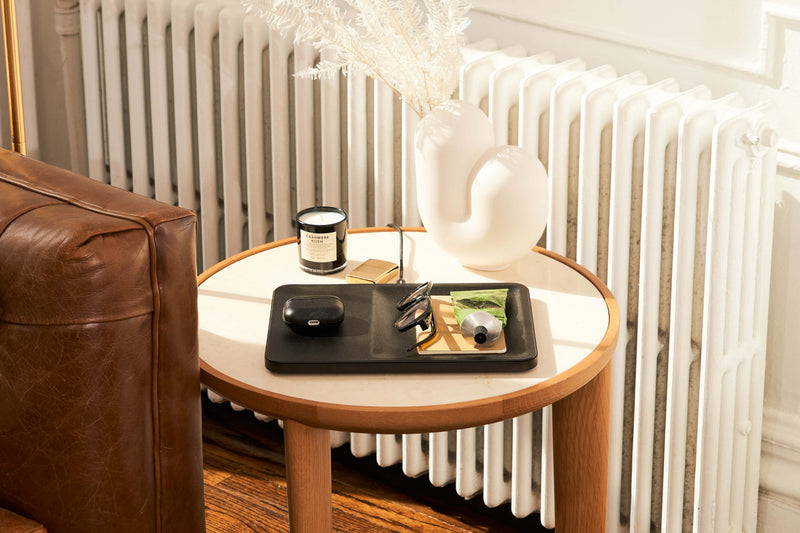 20% Off All Classics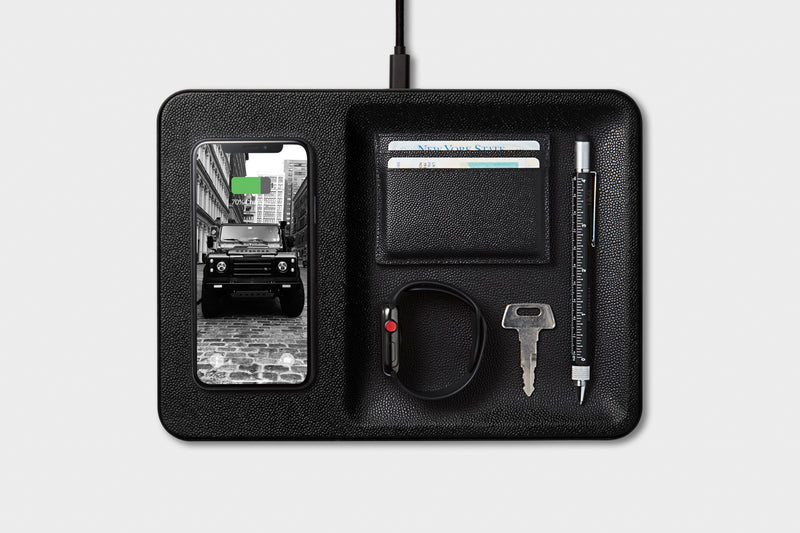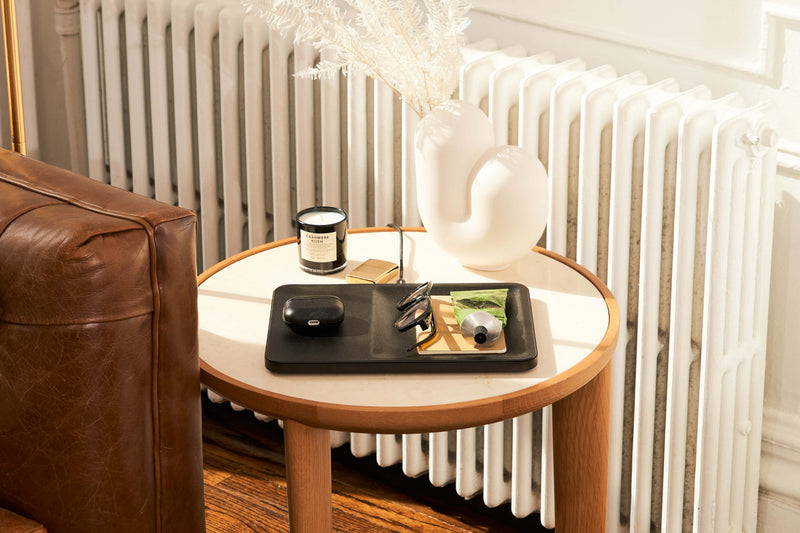 CATCH:3 Classics
CATCH:3 Classics
Single-Device Charging Tray
Full price was
$175
Sale price is
$140
Holiday Savings Unlocked
The new home for your most essential items. The CATCH:3 combines our multi-coil, single device wireless technology with the familiar valet silhouette, allowing you to thoughtfully organize accessories and charge your devices. We recommend placing the CATCH:3 on both the bedside and entryway of your home.

Spacious Accessories Compartment
Premium Pebble-Grain Italian Leather
High-Grade Matte Aluminum Alloy
Durable Braided Nylon Cable
Weighted, Non-Slip Construction
3-Coil Qi-Certified Fast Wireless Charging
Additional USB-A Output
Charges Through Most Cases up to 3mm in Thickness
US Patent D872,690
3-Coil Single-Device Fast Wireless Charging
USB C Input
Up to 10W Wireless Output
Additional USB A Output
Certifications: Qi, CE, FCC, ROHS
Included in the Box: USB C Charging Cable, Power Adapter
Countries of Usage: Universal with USB Cable, USA-only with Power Adapter
Dimensions: 11 x 8 x 0.6 in
Not sure if your device supports Qi-compatible wireless charging?
Why Choose Courant
3 Coils for Faster Charging
USB-A Port for Additional Devices
3 Coils for Faster Charging
USB-A Port for Additional Devices
luxury materials meets cutting-edge technology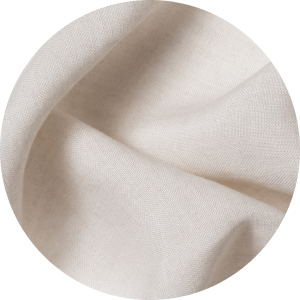 Luxury Materials
We partner with artisans renowned in the high-end interior and designer fashion industries to curate our assortment of shades of Italian leather and Belgian linen.
Award-Winning Design
We integrate intuitive charging technology into smart, sleek, home-inspired shapes to seamlessly complement your of-the-moment interior styles.
FAQ
Are my phone and earbuds compatible?
Please see our compatibility page here for full details — For Apple-devices specifically, all iPhones after the iPhone 8 are compatible.
Is the Apple Watch compatible?
Unfortunately, the Apple Watch is not compatible with the Qi wireless charging standard we use for our CATCH products.

Some customers have used the additional USB-A port in the back of our CATCH:3 to plug in their Apple Watch to keep their devices charging in one spot.
What's the difference between the leather and linen collections?
Our Leather and Linen collections share the same internal technology and interiors-inspired forms. The difference comes in their finishings and fabric selections. 

Our Leather Classics Collection features luxe Italian leather from regions of Santa Croce, Italy known for supplying major fashion houses. Fabric textures vary across our rich and neutral palette - from pebble grain to smooth and marbled leather. All colorways come with a complementary weighted aluminum base.

Our Linen Essentials Collection features premium Belgian linen from West Flanders, Belgium. The same carbon-neutral facility that supplies to global interiors brands. All shades are neutral and home-inspired and feature the same durable, linen weave. All colorways come with a complementary soft-touch matte base. 
What comes with the CATCH:3?
Inside your CATCH:3 box, you'll find a color-matched charging cable and power adapter to complete your design-forward charging setup.
Is the CATCH:3 universal in all countries?
The CATCH:3 can be used internationally using a locally-compatible power adapter and the provided USB cable. A US-compatible power adapter is included with your CATCH:3, but may not be suitable to use outside the US.
What is wireless charging?
Wireless charging transfers energy from a transmitter (i.e. wireless charger) to a receiver (i.e. your phone) without a cable. Simply, plug in the Courant device, align your phone on the three-dot area, and charge without struggling to find your charging cord each time.
Is wireless charging as fast as plugging in your phone?
Our products can charge up to 10W, which is faster than charging your phone when using a standard 5W power adapter (included in most smartphone boxes).
Do you offer free shipping?*
We offer free shipping and easy returns on all orders above $125 in the USA & Canada. Orders placed after 3 pm ET will be shipped the following business day.
Total 5 star reviews: 454
Total 4 star reviews: 72
Total 3 star reviews: 84
Total 2 star reviews: 52
Total 1 star reviews: 62
Kaysaun B.

Verified Buyer

Reviewing

Personalized CATCH:3 Essentials

I am so happy with

I am so happy with the courant charger. It is a great accessory to my nightstand table.

Jennifer W.

Verified Buyer

Reviewing

Personalized CATCH:3 Classics

YOU NEED THIS!

Purchased for my husband as a birthday gift. He loves it. Always messing around with cords and chargers and forgetting them at work, in the car, etc. this solved the problem AND it looks very sharp on his bedside table. Leather is great quality and the monogram looks great too.

Orlando M.

Verified Buyer

Reviewing

Personalized CATCH:3 Classics

Orlando

Love it it looks great on my nightstand

Kelly O.

Verified Buyer

Reviewing

Personalized CATCH:3 Classics

BF Gift

I purchased for my boyfriend for Christmas. He often forgets to charge his phone and always has a pocket full of stuff. He loves it & especially the personalization. It's on his nightstand and so convenient! The packaging and quality are impressive!

PetaGaye T.

Verified Buyer

Reviewing

CATCH:3 Essentials

Stunning Charger

I am in love with this charging tray. It's a very elegant touch to my nightstand. The quality is amazing. I didn't get the leather, I got the fabric and it looks amazing with my decor. As a bonus it charges my AirPods Pro with the case on.
Reviews Loaded
Reviews Added