Full price was
$40
Sale price is
$34
Full price was
$40
Sale price is
$34
CATCH:1 Essentials - Forest
Get notified when it launches!
CATCH:1 Essentials - Natural
Get notified when it launches!
CATCH:1 Essentials - Camel
Get notified when it launches!
CATCH:1 Essentials - Charcoal
Get notified when it launches!
Our simplest wireless charger. The CATCH:1 is low profile, weighted to stay put, and wrapped in designer-quality Belgian Linen and durable ABS coating to effortlessly blend in, wherever it's placed. This charger works best in locations where space saving is top of mind—we like it on end tables, office desks, and kitchen countertops or islands. 
This product does not come with a power adapter.

A Customer Favorite
Get a front row seat to how our community has been using their Courant products.
Not sure if your device supports Qi-compatible wireless charging?
Why Choose Courant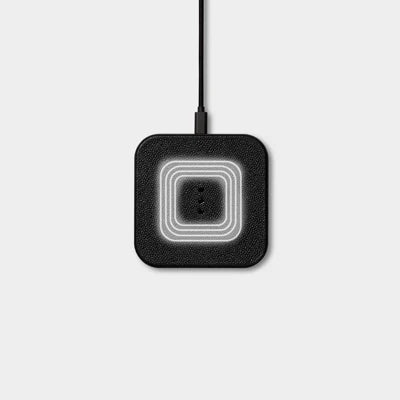 Large Charging Coil to Reduce Deadzones
Monogramming Available on Classics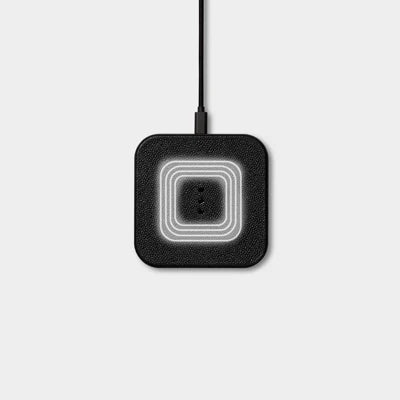 Large Charging Coil to Reduce Deadzones
Monogramming Available on Classics
luxury materials meets cutting-edge technology
Luxury Materials
We partner with artisans renowned in the high-end interior and designer fashion industries to curate our assortment of shades of Italian leather and Belgian linen.
Award-Winning Design
We integrate intuitive charging technology into smart, sleek, home-inspired shapes to seamlessly complement your of-the-moment interior styles.
"This mini wireless charging device is perfect for the nightstand."
"If you want to make your desk look as stylish as you do, this tech accessory will impress both you and your coworkers."
FAQ
Are my phone and earbuds compatible?
Please see our compatibility page here for full details — For Apple-devices specifically, all iPhones after the iPhone 8 are compatible.
Is the Apple Watch compatible?
Unfortunately, the Apple Watch is not compatible with the Qi wireless charging standard we use for our CATCH products.
What's the difference between the leather and linen collections?
Our Leather and Linen collections share the same internal technology and interiors-inspired forms. The difference comes in their finishings and fabric selections.

Our Leather Classics Collection features luxe Italian leather from regions of Santa Croce, Italy known for supplying major fashion houses. Fabric textures vary across our rich and neutral palette - from pebble grain to smooth and marbled leather. All colorways come with a complementary weighted aluminum base.

Our Linen Essentials Collection features premium Belgian linen from West Flanders, Belgium. The same carbon-neutral facility that supplies to global interiors brands. All shades are neutral and home-inspired and feature the same durable, linen weave. All colorways come with a complementary soft-touch matte base. 
What comes with the CATCH:1?
Inside your CATCH:1 box, you'll find a color-matched charging cable.
Is the CATCH:1 universal in all countries?
The CATCH:1 can be used internationally using a locally-compatible power adapter and the provided USB cable.
What is wireless charging?
Wireless charging transfers energy from a transmitter (i.e. wireless charger) to a receiver (i.e. your phone) without a cable. Simply, plug in the Courant device, align your phone on the three-dot area, and charge without struggling to find your charging cord each time.
Is wireless charging as fast as plugging in your phone?
Our products can charge up to 10W, which is faster than charging your phone when using a standard 5W power adapter (included in most smartphone boxes).
Total 5 star reviews: 201
Total 4 star reviews: 34
Total 3 star reviews: 33
Total 2 star reviews: 12
Total 1 star reviews: 22
Serena B.

Verified Buyer

Reviewing

CATCH:1 Essentials

Great design ! We have

Great design ! We have it in the living room color looks great with the decor!

Aaron S.

Verified Buyer

Reviewing

CATCH:1 Classics

Should've bought more the first time!

Really happy with the convenience of getting rid of the wire situation! It was between this and the linen for me, but I opted for the leather, the finish is high quality and it blends very nicely like a piece of the furniture. I originally purchased just the one, to make sure it lives up to the hype. It does. Will be placing our second order for one around the house and the other night stand.

Reviewing

CATCH:1 Essentials

Forest

Functional & aesthetically pleasing

Love the look & performance. Have one in every room

Reviewing

CATCH:1 Essentials

Forest

Amazing!!!

Incredible I absolutely love it!!!!

andrea w.

Verified Buyer

Reviewing

CATCH:1 Essentials

looks good but you have

looks good but you have to make sure it on the correct way for it to charge otherwise it does not charge properly
Reviews Loaded
Reviews Added